Welcome to riviera-airport.it private area. On this site you will be able to perform all procedures for obtaining a licence to operate in our airport.
Benvenuti in riviera-airport.it private area, in questo sito sarete in grado di eseguire tutte le procedere per l'ottenimento della licenza per operare nel nostro aeroporto.
To proceed please follow these simple instructions:
- Click on 'register' on the right side of the screen
- Fill in all sections of the registration form and then click on 'send'
- The system will automatically send you an email
- Follow the instructions received and in two simple steps you will be able to obtain the license
- Once you have completed the procedure the system will automatically send the certificate to your email address
- We remind you that the license is valid for 12 months
Per procedere si prega di seguire queste semplici istruzioni.
- Cliccate register sulla parte destra dello schermo.
- Compilate in tutte le sue parti il modulo di registrazione e cliccate send.
- Il sistema vi manderà in automatico una mail.
- Seguite le istruzioni ricevute e in due semplici passi sarete in grado di ottenere la certificazione.
- Una volta completata la procedura il sistema invierà in automatico il certificato al vostro indirizzo mail.
- Ricordiamo che la certificazione ha una validità di 12 mesi.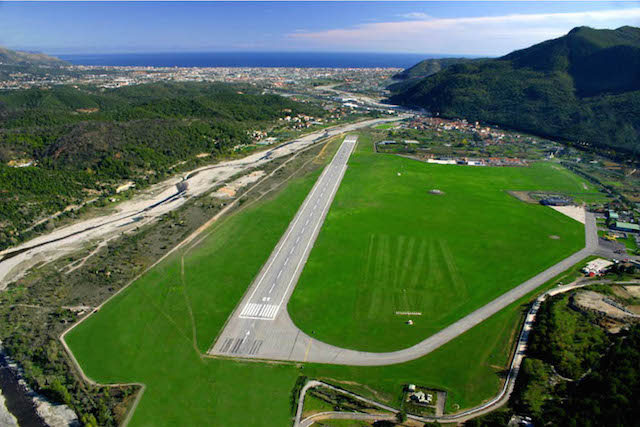 The airport is located in area which have unique orographic and meteorological characteristics. So this website is dedicated to provide all information to help pilots and operators to plan safely and effectively their flying activities.
At Albenga airport are allowed commercial and private flight operations according to VFR and IFR. All IFR procedures require a specific qualification.
All information to achieve the required qualification can be found on these pages.
To help planning the website will also provide other information such as Airport Fees & Charges, and Fuel Prices
NOTE: Use of this website does not constitute knowledge of official documentation such as AIP ITALIA and NOTAM which are still the only official documents of reference for flight planning.
Once again we wish you a pleasant journey into Albenga airport.
Riviera Airport S.p.A.
CEO - Alessandro PASQUALINI
Airport Operations Manager - Giuseppe SCARLATA
Tutti i diritti riservati